SOLD – $2.50 – 1849-D PCGS MS60 CAC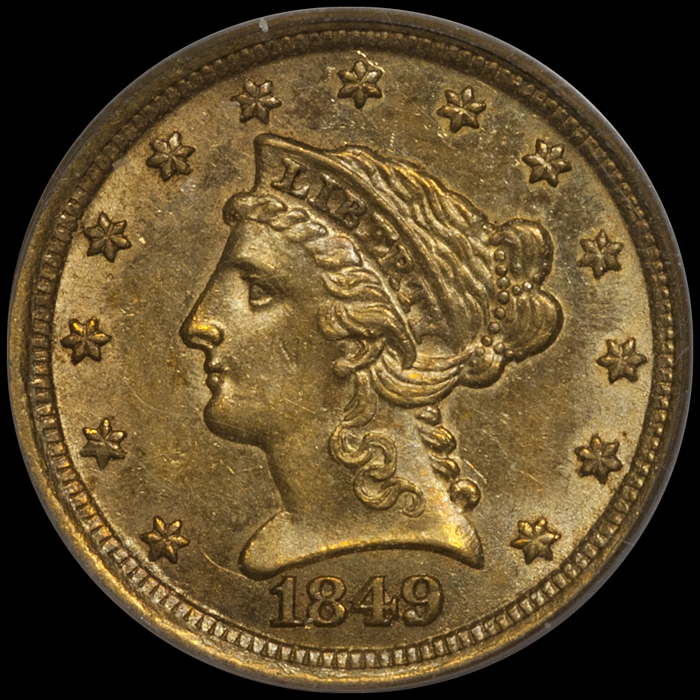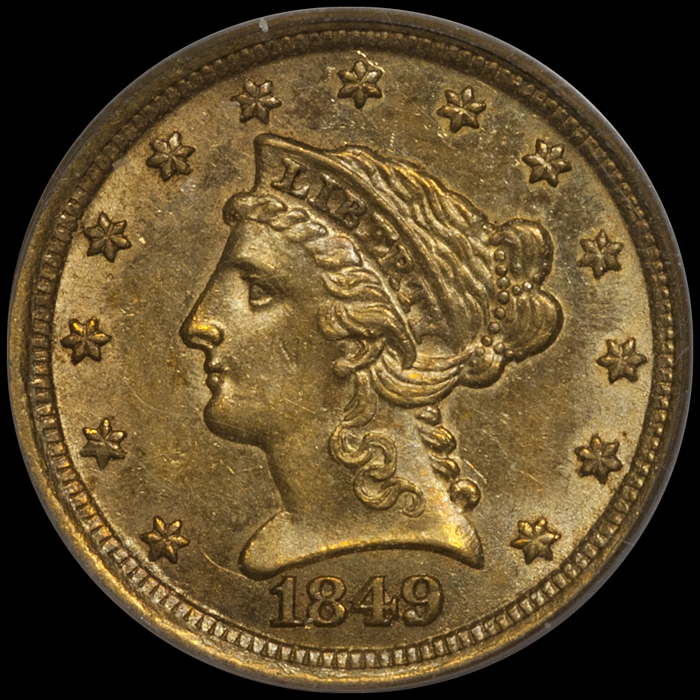 sold out
SOLD – $2.50 – 1849-D PCGS MS60 CAC
Date 1849-D
Grade PCGS MS60 CAC
PCGS Price Guide 15000
Population (PCGS) 1/5
Population (NGC) 4/7
CAC Population 1/0
Serial Number 7754.60/6575080
PCGS Lookup Number 7754
$2.50 – 1849-D PCGS MS60 CAC - $18000
THE ONLY UNCIRCULATED 1849-D QUARTER EAGLE WITH CAC APPROVAL
Variety 11-N, high date. North Georgia collection pedigree, designated by PCGS.
The 1849-D quarter eagle is not often seen above AU53 to AU55. There are at most five or six known in Uncirculated with the finest of the grading MS62.
This is a famous coin, with a pedigree stretching back to the 1980's when it was acquired by the owner of the famous North Georgia collection. It is housed in an older pre-barcode holder and it seems undergraded by a full point by today's standards. It is a truly "new" coin with full luster and pleasing green-gold and russet toning over frosty, unabraded surfaces.
This is the only PCGS MS60 1849-D quarter eagle to sell at auction; see below for pedigree information.
Here is the chance to own a famous example of a conditionally rare Dahlonega quarter eagle.
CAC has approved this one coin in MS60 with none finer.
Ex Heritage January 2001: 7754 ($13,800), Heritage 1/99: 7645 ($21,900), North Georgia collection, Mid American 8/91: 653.