JUST ADDED - $5.00 - 1813 PCGS MS64 CAC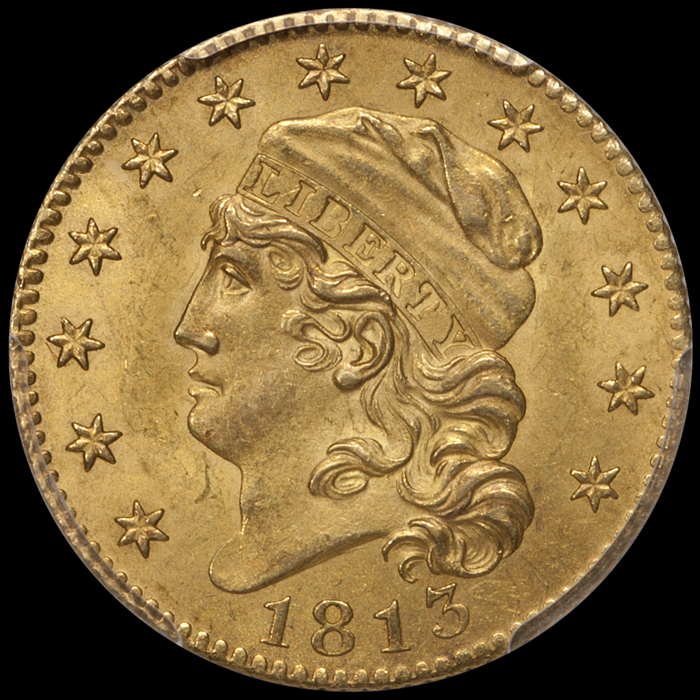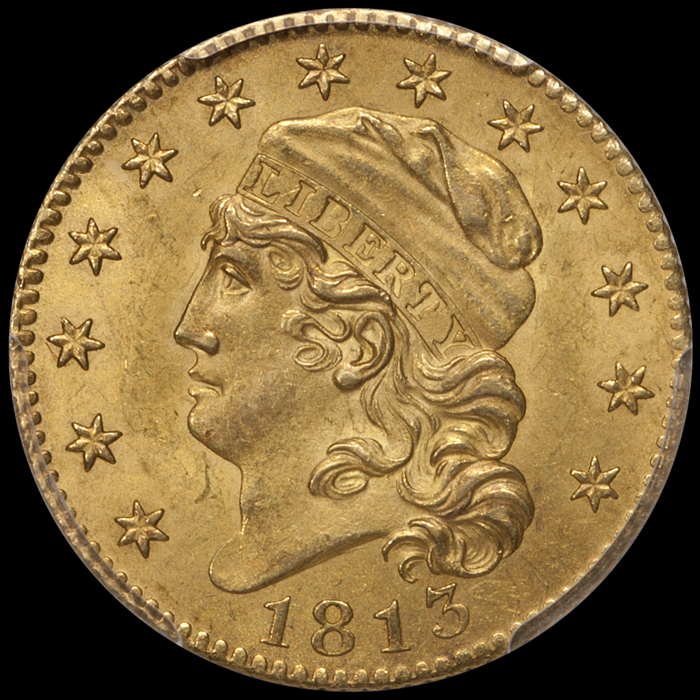 JUST ADDED - $5.00 - 1813 PCGS MS64 CAC
Date…….1813
Grade…….PCGS MS64 CAC
PCGS Price Guide.….…...57500
Population (PCGS).…...….57/0
Population (NGC).….…..…20/5
Population (CAC).…..…..…16/4
Serial Number……8116.64/37675371
PCGS Lookup Number…….8116
$5.00 - 1813 PCGS MS64 CAC - $52500
IMPRESSIVE BORDERLINE GEM 1813 HALF EAGLE, PCGS/CAC MS64
BD-1, R-3.
The 1813 is the closest thing there is to being a "common" date in the Capped Head Right half eagle type of 1813-1829. It is seen with some regularity in grades through MS63 but it is scarce in properly graded MS64 and finer.
This coin is fresh to the market and I purchased it in a dealer-only bid sale a few months ago where there was a similar quality 1813 half eagle that regraded as MS64+; it just brought in excess of $65,000 in the June Heritage sale. This example is about as original a coin as you are likely to see for this type with rich russet colors on both sides and blazing mint luster beneath. There are a few really minor scuffs in the obverse fields which are likely what kept this piece from grading MS64+ but I tried it a number of times at PCGS in hope of securing the plus add-on.
The last two auction records for a CAC approved PCGS MS64 1813 half eagle are $64,625 for Heritage 2017 FUN: 5870 and $70,500 for Heritage 2016 FUN: 5582.
No PCGS MS65 example of this important first-year issue has been offered for sale at auction in years (since 1991, in fact) and if one were available, it would cost well in excess of $100,000. The finest known, graded MS66+ by PCGS, sold for a remarkable $316,250 all the way back in early 2007.
This is a choice and very significant early gold coin.
CAC has approved 16 in this grade with four finer.