$20.00 - 1856-S PCGS MS63 CAC, SSCA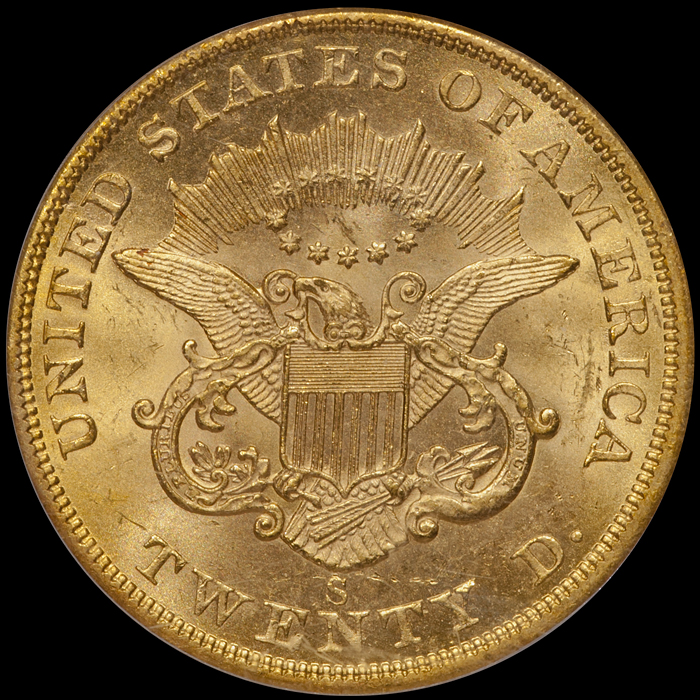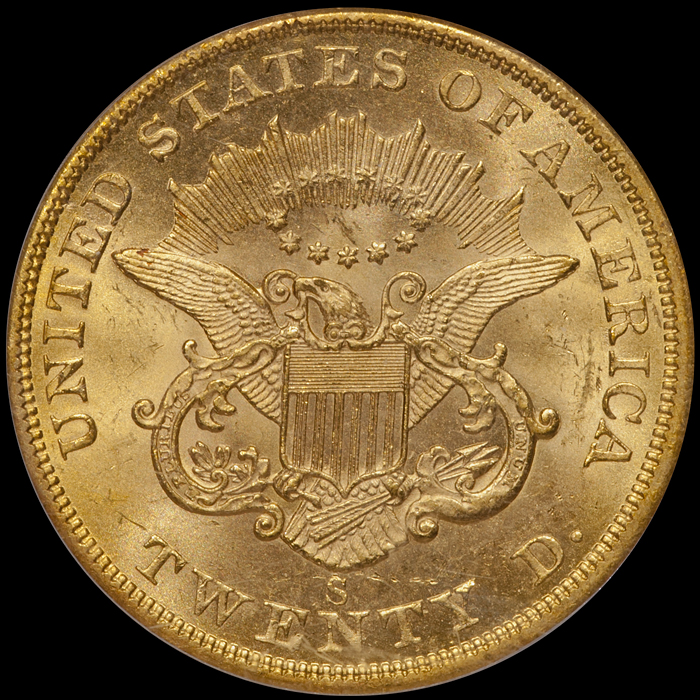 $20.00 - 1856-S PCGS MS63 CAC, SSCA
Date…….1856-S, SSCA 5157
Grade…….PCGS MS63 CAC
PCGS Price Guide….……..19500
Population (PCGS)…..…....8/7
Population (NGC).…..….….4/3
Population (CAC)...…..…….4/3
Serial Number…….SSCA 5157
PCGS Lookup Number…….8919
20.00 - 1856-S PCGS MS63 CAC, SSCA - $17750
SSCA #1 1856-S $20, PCGS/CAC MS63CAC
Variety 17B/SSCA 5157. In the original gold foil insert holder.
In the first recovery from the S.S. Central America, a total of 1,085 double eagles dated 1856-S were located. These are much harder to locate in MS63 and higher grades than their counterparts dated 1857-S yet they sell for just a small premium.
This is an exceptional example which might well grade MS64 by today's standards. It is choice and very frosty with just a few small ticks in the left obverse field noted. The color is a lovely rich yellow gold which deepens at the borders. Looked at on its own, the reverse is close to a full MS65.
Two recent APRs for examples in the original holder include Heritage 10/18: 3198 at $19,200 and Heritage 1/18: 5098 at $20,400.
This coin does not include the original box and COA, but these are easy to locate and I can try to provide them to the buyer if so requested.