$10.00 - 1869-S PCGS AU55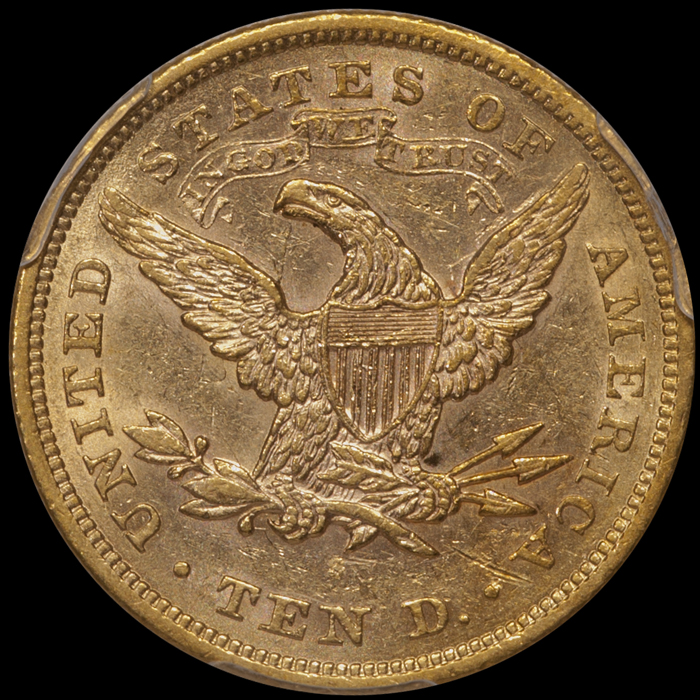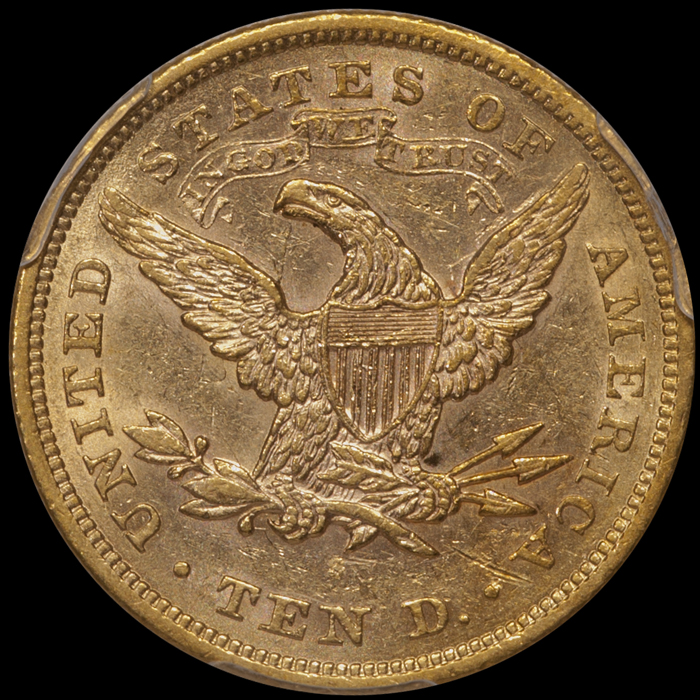 $10.00 - 1869-S PCGS AU55
Date…….1869-S
Grade…….PCGS AU55
PCGS Price Guide.….…...13000
Population (PCGS).……….5/7
Population (NGC).…….…..11/4
Serial Number…….8656.55/37030100
PCGS Lookup Number…….8656
$10.00 - 1869-S PCGS AU55 - $11250
RARE PCGS AU55 1869-S $10
Only 6,430 were struck and the 1869-S eagle is rare in all grades with fewer than 75 known in total. It is unlikely that there are as many as a dozen known in all AU grades and a properly graded AU55 qualifies within the Condition Census for the date. I am aware of just two in Uncirculated (one in NGC MS61, one in PCGS MS61) and the NGC example sold for $43,200 in February 2018.
This coin is minimally worn and very lustrous; so lustrous, in fact, that I resubmitted it to PCGS in the hope that it would upgrade to AU58. Both the obverse and reverse of this pleasing piece show warm light golden-orange and rose hues. This date is typically seen with detracting abrasions and this example is cleaner than usual with the most grade-limiting marks seen in the inner left obverse field and just past the final A in AMERICA.
Since 2010, there are just three APRs for this date in PCGS AU55 which represent two actual coins. The most recent record is Heritage 2017 ANA: 4162 at $11,163 (for a CAC approved piece) while a low-end coin with funky color sold for $9,988 as Legend 9/15: 252. The only nicer one I have sold in many years was a PCGS/CAC AU58 which I placed in an Eastern collection in 2018.
As I have long maintained, the San Francisco With Motto eagles dated 1866-1876 are nearly as rare as their No Motto counterparts and they appear undervalued in comparison to their earlier counterparts.